Quad friendly Montego Bay, Jamaica
My husband and I just returned from 3 wonderful nights in Montego Bay, Jamaica. (My husband is a C-5,6 complete quad in a power chair)
We started our trip flying out of Orlando, Fl. With a direct flight to Montego Bay on Jet Blue. The transfer from his chair to the aise chair was awkward as usual but they got the job done. The flight was only 1 1/2hours…nice! When we got to Montego Bay it was a bit of a surprise to find out that he then would transfer from his seat to the aise chair, and then from the aise chair to a manual chair to go through customs, and then finally transferred back into his chair at baggage. They do this for 2 reasons 1) They won't bring the chair through customs and 2) There are stairs on the plane side of customs and the chair is too heavy to lift.
Once passed through customs and baggage retrieved we met with Kens Wheelchair Taxi service outside. (be careful to only tip the driver as a dispatcher will just show you where the vehicle is…a few steps away) The cost for roundtrip service to hotel was $90.00 plus tip.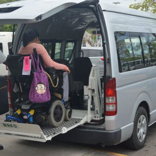 (stock photo- Kens Wheelchair Taxi Service)
We were driven to our hotel which was Secrets Wild Orchard All-Inclusive Resort & Spa. The cost was $694.00 per night. This included a luxury oceanfront suite with king bed, sofa, Jacuzzi, luxury bathroom with all toiletries, unlimited mini fridge, balcony with Jacuzzi tub, and unlimited meals at 4 restaurants and unlimited drinks at 4 bars.
We opted not to get a wheelchair accessible room because they didn't have a king bed and we knew the suite would be roomy enough. (Gave up the roll-in shower) I did a standing transfer but you can actually hire a private butler for $100.00 per day that will help you transfer and be at your every beck and call.
The property is not really within rolling distance of anything interesting and since we were only staying 3 nights we just took advantage of all the amenities on the property.
The water was crystal clear blue and turquoise!
The people were extremely friendly, and the views were to die for. The only negative I could say is that we expected reggae or steel drum bands to play at some point by the water or one of the 3 pools which didn't happen during our stay but apparently one night a week they do have a steel drum outside one of the bars.
Their famous sayings? "Welcome Home" and "Yeah Mon"
The flight home was pretty similar to the flight outbound except instead of transferring to a manual chair my husband stayed in the aisle chair as to eliminate one transfer. They tried saying we couldn't do it because of safety reasons but we convinced them he was safer in the aisle chair strapped in than a manual chair not strapped in due to him not having any upper balance. And just fyi, we always put his Roho cushion on the plane seat and on Jet Blue get the Extra room seat! Yeah Mon!!!