Wheelin' it Cross Country!
6 day cross country road trip Tampa,, Fl to Seattle, Wa
First things first, pack the "stuff" not the dog!
My husband (who is a C5,6 quad) had it on his bucket list to take another cross country trip from Tampa to Seattle which we've done about 4 times before WHEN WE WERE YOUNGER! to visit his family. So…off we go with not too much of a plan in place other than getting to Seattle in 5-6 days.
Day 1: Leave Tampa around 8am which was our usual get out and keep driving time. Each day we drove approx. 550 miles getting us in at around 7pm. Our first stop was just outside of Marietta, Ga. In Kennesaw, Ga Stopped into the Kennesaw Inn Best Western $90.00 and got our wheelchair accessible room which sufficed for one night..nothing to write home about (or email) other than a great little restaurant O'Charleys across the street! BTW, I'm Irish and love food!
Day 2: Arrived in Florence, MO (Better known as Boonslick) and it looked just like it sounds.

Coming from Tampa (Actually Apollo Beach 20 miles south of Tampa) we knew we were out in the boonies due to the only place we could find to eat was the flea market! But I gotta hand it to those Boonslickians they make awesome catfish!!!

And of course if you're in Boonslick where else are you going to stay except Boonslick Lodge!

It was awesome, unique, really accessible, comfortable, hot breakfast buffet and all for only $60.00 per night.
Day 3: Drove and Drove and Drove to get to South Dakota so that we could get to Mount Rushmore early the next day. Stayed in Gilette, Wy at a beautiful hotel Best Western Tower West Lodge. $80.00 per night and gorgeous with a steakhouse attached. It was time for a good dinner! We decided against the $60.00 for 2 buffet and by the looks of it don't really think It would have been worth it.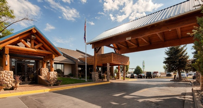 I looked long and hard to find the "push" button to start the gas pumping! Forgot about those levers on the side. Love these little surprises on the road!
Day 4: Arrived at Mount Rushmore approximately 11am!
Followed by a visit to Crazy Horse which is often missed and under estimated. Look close at the top and you can see where Crazy Horse is also carved out of the mountain.
Day 4: Well Day 4 turned out to be the most challenging as we were trying to push the drive so we would only have one more night before Seattle. Around 8pm it started getting that dark eary look to the skies letting you know a bad storm was coming soon. We started calling hotels and couldn't find anything accessible or even available in the area we were around (Gillette, WY) except someone told us about a place called Pryor Creek Café that had a hotel in the back.
Well it didn't look too promising and it was only $39.00 per night so we figured better to be safe inside anywhere than out in the storm. A man inside the lobby asked his 3 boys that were in a back room to come help us with our luggage and then he escorted us to our room apologizing that it wasn't very accessible….WELL INDEED IT WAS!!! It was huge with 2 queen beds!! The bathroom was a bit small but we made do. My husbands caregiver who came with us had 3 beds in her room!! LOL These are the small surprises once again on the road. The next morning we went to the café for breakfast which was awesome as well. I'm beginning to love these little out of the way places!
Day 5: Last night before we hit our final destination so we're on the road to Missoula, MT We stayed at a LaQuinta which was very nice and comfortable for $100.00 for the night and best of all once again an Irish Resturant right beside the hotel called The Stone of Accord.
Day 6: Arrive in Seattle at the Navy Lodge for the next 10 days…more on that to follow
Total cost of Lodging from Tampa to Seattle $1270.00
Approximate gas in a Chrysler T&C $250.00