Beaching it in Daytona Beach, Florida!!
To find a fully wheelchair accessible beach is near to impossible but Daytona Beach, Florida is one of the stars when it comes to "rollin' on the beach." You can literally drive your vehicle on the beach due to the hard sand. Regular vehicles have to park about 20' back in the soft sand but if you have a wheelchair accessible van you are allowed to park a little closer to the water where the sand is rock solid. Unbrellas and chairs are also available to rent to keep you cooled down a bit.
We stayed at the Holiday Inn Oceanside Resort. The cost was only $140.00 per night but obviously varies depending on the time of year you go. (Beware of spring break! And Bike Week!) We had a kitchenette, 2 queen beds and a roll in shower. Our room was situated oceanfront and also overlooked the pool. You couldn't roll out onto the balcony due to the lip if you are in a power wheelchair.
The pool and Jacuzzi which overlooked the ocean both had lift systems which I give them a thumbs up for even considering one in the Jacuzzi!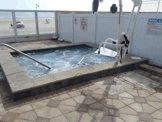 There is also a fully accessible boardwalk (about 2 miles down the road from the Holiday Inn) that has restaurants, arcades, ice cream, pizza, rides and games. Great for kids! The amusement area on the boardwalk is to say the least ..dated… but that's' part of the appeal I think to many visitors. You really need to pack no more than shorts, tops, flip flops and bathing suits. Don't forget the sunscreen!